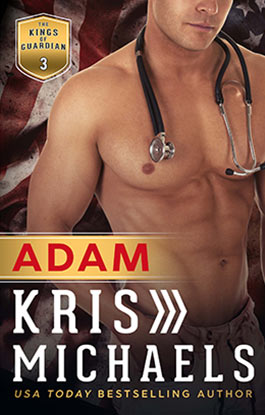 Kings of Guardian Book 3
Dr. Adam Cassidy knew two things: life isn't easy and fate's a bitch.
Adam's last mission cost him an eye, his memory, and any chance of staying with his military brothers-in-arms on Guardian's Alpha Team.
After two years he'd scraped together the remnants of his life. He'd refined, rebuilt and pushed on alone. Yet at night, when sleep eluded him, the fleeting memory of a warm, welcome press of soft skin and the distant memory of a faceless, nameless woman haunted him.
Keelee Marshall knew all about loss. The man she loved beyond reason had disappeared on the battlefields of Afghanistan even though he now lived three buildings over...on the same ranch. She couldn't forget their brief nights of passion—but Adam had. Keelee would have to fight for Adam's love, because he was hell-bent on pushing her into the arms of a man she didn't want and a future devoid of the one thing she needed most. Adam.
For Adam and Keelee a life together may never happen, unless love can trump the cards fate has dealt. She'd go all in, but only if the man holding the cards was her Guardian.