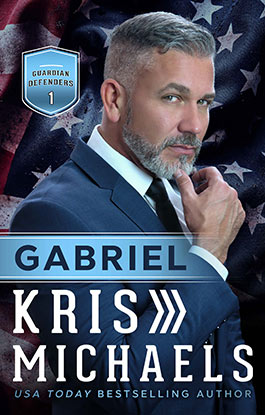 Guardian Defenders Book 1
David Xavier—and all those he loved or counted as friends—would forever be mouth-watering targets to men of evil intent. His wealth could settle a small country's foreign debt. Because of this, from the moment of his birth, his mother obscured his identity. Reborn as the man named Gabriel, however, he walked free into a world where the innocents and the weak cried out for a defender, for the hand of justice, for a guardian angel.
In response, an elite, paramilitary operation, Guardian, rose to stand between the evil men did and those whom they would make their victims. Gabriel was CEO. His goal was worthy and all consuming, but fighting on the side of angels didn't make his nights less lonely or soothe the ache in his heart for hearth, home, and family.
He needed a courageous woman of unflinching integrity, of goodness and honor, to stand at his side. He'd given up hope of finding such a person. He thought he'd found her years ago. The sex had been combustible, but they'd met at the very birth of Guardian, when he hadn't time for a personal life. Chalk it up to fate or bad timing.
Over the years, twenty-eight-year-old, Denver ER nurse, Anna Harriger, watched as all her friends, many of whom were former patients, found their soul mates, got married, and had children. Shoot, she'd been a bridesmaid six times. She figured she was destined to be the "crazy friend" that everyone liked but who, at the end of the day, went home to a solitary apartment. She wanted love. She wanted a family, but she refused to compromise her standards. She'd met her Prince Charming, but unlike the fairytale, after an incendiary night of sex, she'd never seen him again. Chalk it up to fate or bad timing.
When events throw them together again, each find their attraction vastly more than simply physical, but once again, Gabriel's responsibilities pull them apart. After an absence of almost half a year, Gabriel returns for Anna, but she has vanished. He will do whatever it takes, for as long as it takes, to find her and bring her home, but fear dogs his efforts. Who was she running from? Why did she disappear so thoroughly? He knew his Anna. She'd have a very good reason.