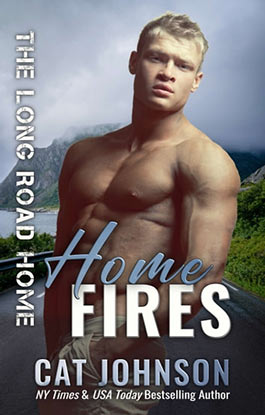 Long Road Home Book 9
Coming September 13, 2022
Loyal. Committed. Responsible. Navy SEAL Calvin Swenson Jr is all those things—when it comes to the Navy and his team.
Disappointment. Traitorous. Disloyal. Calvin Swenson Sr has called his son that and more since it finally sank in Cal wasn't going to follow in his footsteps. The old man had always said money can buy anything, but the billions weren't enough for Cal to trade in his freedom by joining the family business.
But now, like it or not, Cal had booked his flight from San Diego to New York, by way of Atlanta to go back home to the family compound where he'd always suspected the walls and gates were as much to keep him in as to keep the public out. But he's going back on his terms and for the only person who could have convinced him to set foot in his father's domain again—his grandmother.
One month's leave from the Navy. One last opportunity to rectify his only regret—leaving behind the woman who'd raised him. She was the one shining light in his childhood. The one who'd kept the home fires burning all these years… And the last person he'd ever expect to be a conniving, manipulative liar who would actually pretend to be dying just to get him home! But, apparently, that's exactly what she did.
So now what? He could leave. Go back to the team or take a much needed vacation. It would be what the old woman deserved for scaring him. Or maybe he should stick around. Find out why she was so desperate to get him back there.
It was a tough decision. Granny's hot live-in personal assistant might make it worth staying. Cal's amusement and satisfaction over his father's constant displeasure at his presence didn't hurt either. Then there was that other thing that had been nagging at the back of Cal's brain. He couldn't be a SEAL forever. Maybe there was something to be said for having a plan B. Even if that plan comes with a giant A-hole attached. And in spite of what his father says, he's not a quitter and he'll be damned before he went back to Coronado with his tail between his legs because he failed at the business his grandfather had founded. Cal made it through Hell Week and he'd make it through a hell month at the office with his father… or die trying.