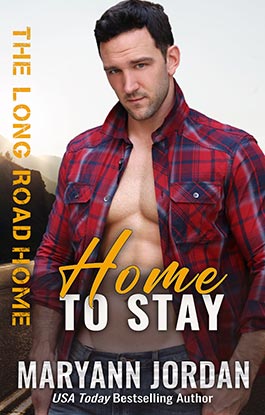 Long Road Home Book 2
You can take the warrior out of the fight, but not the fight out of the warrior. With the military behind them, these heroes battle uncertain futures as they travel the long road home.
Home is no longer the place he left… but it's all he's got.
John Roster is flying to his childhood home in Maine after a medical discharge from the Army. No one will be there to welcome him home other than his cranky grandfather… a personality trait the two men share. No job. No friends. And with a storm canceling all flights at the moment, no plane to catch.
Killing time at the USO in the airport, he bonded with a few fellow servicemen also waiting out the storm, as well as the irrepressible hostess who offered a suggestion… find a purpose by thanking someone who'd helped while he was stationed overseas.
Lucy Carrington's special project for her history class has come to an end. The letters they had written to a fellow-Maine soldier had stopped now that he was leaving the military. Staring at the picture of the handsome soldier with the haunted eyes, she wished they could meet in person. One day, in the middle of their lesson, he appeared. He's much more gorgeous in person… and just as haunted.
John expected a matronly teacher to greet him, not the bright-eyed, friendly-smile, knock-out that made up the whole package of Lucy. Sparks fly, but he's got a long way to go to have more to offer than a beat-up former soldier, so he'll settle for friendship.
A new job offer with a prestigious security firm might lead him to the future he wants. A threat at her school thrusts him into the role of protector. Keeping her safe is his mission… earning her love is his goal. And a soldier never quits.