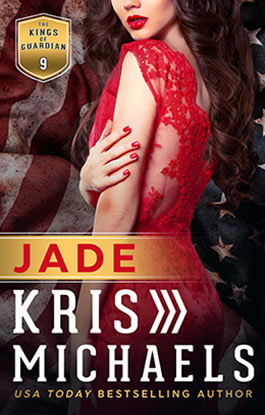 Kings of Guardian Book 9
Jade King lives life at full speed. After over a year undercover for the DEA, she's back in play and wants what any hot-blooded woman who's gone a year without sex would want: an alpha bad boy who is convenient, delicious and disposable. A fun one-night stand, multiple orgasms, and absolutely no strings attached. Right? If only.
Nicolas DeMarco has a library stocked with little black books, and his bedpost is nothing but notches. His love 'em and leave 'em mentality served him well…until it didn't. Now, forty years old and in charge of Guardian's Domestic Security, he's done with the biological catch and release game that used to thrill him…until Jade King let herself into his office and made him an offer. One he couldn't refuse…but man, could he screw it up.
When one of the Guardian's family members is targeted for death, Jade is pulled from her much deserved vacation and into Nicolas DeMarco's world—a world complete with strings, attachments, feelings, and danger. When the elusive head of the Triad maliciously plans and executes an event that devastates an entire city, it catapults Jade and Nic into a Guardian sanctioned operation. An operation that they may not survive.