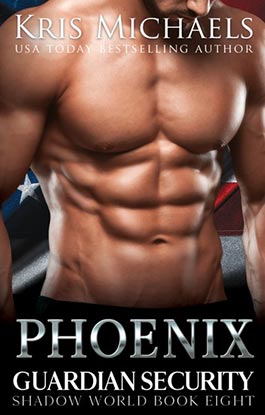 Shadow World—Guardian Security Book 8
Coming May 31, 2022
Her exceptional memory was gone.
Aspen Kennedy almost died in the explosion that decimated Guardian Security's Washington D.C. complex. When she woke in the hospital bed, survival was her mantra. But the very thing that made her who she was had been stripped from her. Plunged into the center of the New York Mafia war, she called the only telephone number she could remember and left a message begging for help. Guardian wouldn't let this happen, that much she did remember.
The assassin known as Phoenix was adrift.
Guardian was adapting after the organization was crippled by an almost fatal strike to its heart. Phoenix knew what he had to do. Find the woman who'd uttered his code name when Guardian's building had collapsed. He'd tracked her to the hospital where she'd been treated, and that's where her trail disappeared.
She called him for help.
Phoenix responded, rising from the ashes of Guardian's recent war. He headed to New York to incinerate the ones that dared to hurt a Guardian. His Guardian. He was hell on earth personified as the assassin Phoenix. The people who had Aspen were the same ones that had created him.
Fate, it seemed, had come full circle.