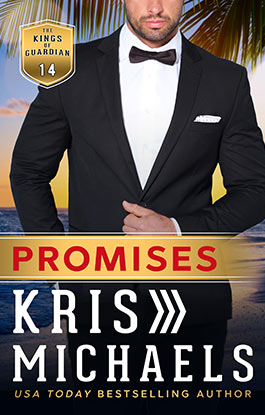 Kings of Guardian Book 14 (Novella)
Promises. A commitment, bond, pledge, or pact. Some are broken, others withstand the test of time.
Promises can be made between friends, families, or lovers. Each will be honored. Even the promise of payback, although Joseph King prefers the word revenge. Family fun at his expense? Not on your life. Join the members of the Guardian family as they delve into the nuances of promises made and kept.
Promises is a Kings of Guardian Novella. Please note: THERE IS NO BACKSTORY INCLUDED IN THIS NOVELLA.
This novella is not for you if you haven't read the previous books in this series. You will not understand the characters or the dynamics. If you have not read all the Kings of Guardian, Guardian Shadow World and Gabriel's story starting the Guardian Defender series, please consider not buying this story.