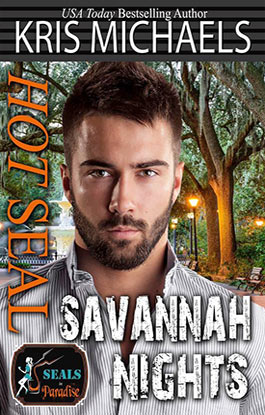 Hot SEAL Book 2
Rio North wasn't ready to leave the SEALs and his brothers in arms, but his destiny called him to Savannah. Born into wealth, he used his family's fortune to help his teammates. While his friends in the military teased him about being a babe magnet, it took a little help from fate in the form of mistaken identity to connect him with the woman he wanted permanently in his life. If only she'd quit running from him.
Meghan Williams finally has her life under control and has sworn this was the last time she'd let her sister "fix her up" with a blind date… until she walked into the restaurant and saw him. Black slacks and blue shirt… yep. Fit the description. She'd never say a bad word about her sister again.
This charming, handsome man couldn't be her date. In this case, it sucked to be right. Mistaken identity much? But even after realizing her error, he still wanted to see her again. Nope, nope, nope. He was gorgeous. He drove an expensive import; his family ran the biggest company in Georgia, and she was... everything he wasn't. Even though her instincts said he was trustworthy, her life experience screamed run.
What's a girl to do when a gorgeous former SEAL pursues her with the same degree of intensity he brought to his former profession?